FRUFC Under 11s Squad Page.....
Training:
Sundays 10.00 - 12.00

Matchdays:
Sundays - see fixtures

Fixtures Contact:
Tracy Greenwood - see contact page
Coaching, Management & Support Team.....
Primary Coach
Level:
Tel:
Email:

Chris Collett
RFU Level 1 / First Aid
07795 572245
chriscollett05@aol.com


Team manager
Tel:
Email:

Kerry Collett
07876 457855
kerryacollett@hotmail.com

Coach
Level


Adrian Prestcott
Rugby Ready


Coach
Level

Martin Brider
First Aid / L2 Referee

Coach
Level

Dave Sanderson
Rugby Ready, L2 Referee

Coach
Level

Steve Cox
Rugby Ready

Squad Information.....
School Year 6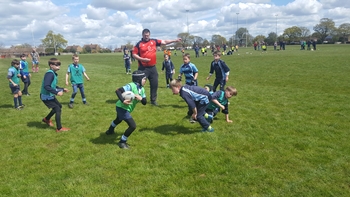 During the rugby season the Under 10's meet at FRFC on Sunday mornings from 10am through until 12pm for training
Some weeks we visit other local clubs for joint training and at regular intervals we enter team into local tournaments, details for our fixtures for the season can be found on this website.
All are welcome throughout the season.
Contact Rugby.
This season sees the introduction of non-contested scrums, contested rucks and mauls
Our aims for the season will be about having fun, learning new skills, teamwork and above all else safety.
The skills the players will be learning are
Evasion- finding space, swerving, changing pace and avoiding the tackle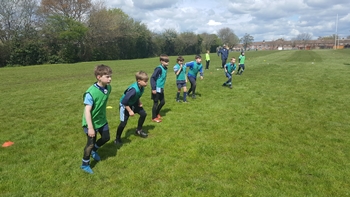 Handling- passing and catching
Tackling- positioning awareness, execution and safety
Scrummaging.
Rucking and mauling
Team skills of
Attack- working together to move forward including passing, evasion and support play
Defence- keeping a defensive line and reforming the line
Tactics- strategy and decision making as a team
Communication
We focus on learning the laws of the game and the core values of Safety, respect, discipline and fair play.
Rugby is a great game for personal and physical development but most of all it is about having fun.
Join in
If you are starting Year 5 in September 2016 and like to give Rugby a try. Please contact Head coach Chris Collett. Rugby is a game for both Girls and Boys.
Safety and comfort are primary concerns so players will need a gum shield otherwise they will not be able to play contact rugby, boots with suitable studs, appropriate clothing for all weathers ( no zips or hard buttons) and a drink and snack
If you are new to rugby don't worry about getting all the right kit, come down and give it a try first
The Under 11s Christmas with the Bracknell Bees