FRUFC Under 11s Squad Page.....
Training:
Sundays 10.00 - 12.00

Matchdays:
Sundays - see fixtures

Fixtures Contact:
Tracy Playfoot - see contact page
Coaching, Management & Support Team.....
Primary Coach and team Manager
Level:
Tel:
Email:

Mike Moseley
RFU Level 1 / First Aid
07956 210993
moseleymikej@hotmail.com


First Aid and Assistant Manager
Tel:
Email:

Yvonne Goodwin
07812 947291
von.goodwin@ntlworld.com

Coach
Level:

Daniel "Woody" Woodward
RFU Level 2 / First Aid

Coach
Level:

Stuart Harris
Rugby Ready

Coach
Level:

Paul Howard
Rugby Ready

Coach
Level:

Dave Griffiths
Rugby Ready

Squad Information.....
School Year 6
During the rugby season the Under 11's meet at FRFC on Sunday mornings from 10am through until 12pm for training
Some weeks we visit other local clubs for joint training and at regular intervals we enter team into local tournaments. Through the season we will be attending a number of festivals, and in order to be considered children must be paid up members of the club, and be regular attendees at training, details for our fixtures for the season can be found on the Fixtures and Results page
Our aims for the season will be about having fun, learning new skills, teamwork and above all else safety.
The skills the players will be learning are:
Evasion- finding space, swerving, changing pace and avoiding the tackle
Handling- passing and catching
Tackling- positioning awareness, execution and safety
Scrummaging.
Rucking and mauling
Team skills of
Attack- working together to move forward including passing, evasion and support play
Defence- keeping a defensive line and reforming the line
Tactics- strategy and decision making as a team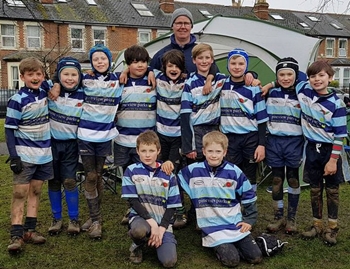 Communication
We focus on learning the laws of the game and the core values of teamwork, safety, respect, discipline and fair play.
Rugby is a great game for personal and physical development but most of all it is about having fun.
New Players Welcome
Farnborough rugby club is an inclusive club and welcomes all players to be part of the team. We offer a great opportunity for young players to develop their skills from a grass roots level and throughout their developing years.
Contact a member of the Coaching Team or feel free to turn up at a training session on a Sunday at 10:00am and give it a try.
Please be aware:
• Parents at our age groups must stay at the club, it is not permitted to drop children off, leave, and return later.
• Players need to wear the appropriate kit for the weather on the day. Through the winter they need to be well wrapped up and we recommend plenty of layers, and a hat and gloves are also very advisable on occasion.
• We have plenty of breaks, so always pack a drink and some snacks.
• Mouth guards are mandatory for contact rugby and your child will not be allowed to take any part in a session if they do not wear a mouth guard.
• Please ensure all boots have IRB approved studs and that these are of good condition, no single stud to the toe and no rough edges or abrasions or bladed should be used. Please ask us if you are unsure.
• For safety reasons, Tracksuits / tops with zips, Hoodies, jewellery and glasses must not be worn during play. Approved goggles can be worn, but please inform the coaching staff to ensure we are aware.