FRUFC Under 12s Squad Page.....
Training:
Sundays 10.00 - 12.00

Matchdays:
Sundays - see fixtures

Fixtures Contact:
Tracy Playfoot - see contact page
Coaching, Management & Support Team.....
Primary Coach
Level:
Tel:
Email:

Chris Collett
RFU Level 1 / First Aid
07795 572245
chriscollett05@aol.com


Team manager
Tel:
Email:

Kerry Collett
07876 457855
kerryacollett@hotmail.com

Coach
Level


Adrian Prestcott
RFU Level 1


Coach
Level

Dave Sanderson
Rugby Ready, L2 Referee
Farnborough U12's are a great team of boys, whose passion is rugby. Many of the boys have played together since the age of 6, however new boys are welcomed every season and become part of our big rugby family. All the boys, whilst coming from different schools, live in and around the Farnborough area.

Rugby at this level is about learning to play as part of a team, but most importantly it's about joining in and having fun.
As a group of players, coaches and parents we have evolved the following set of principles for how we approach our rugby.
Culture
- Ensure a competitive, fun environment
- Build a strong sense of team spirit within the player groups
- Build a strong sense of identity with Farnborough RUFC
- Treat players, coaches, referees and parents with respect at all times
- Recognise and celebrate successes in a positive, supportive environment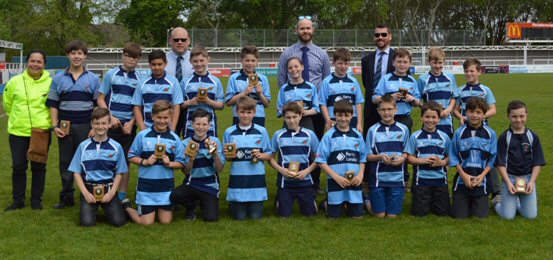 from a good pass to winning a tournament
Development
This year sees the players entering their first year of youth. We want to see an improvement in the core skills of every player and to create a lasting memory of the fun of mini rugby.