FRUFC Under 15s Squad Page.....
Training:
Sundays 10.00 - 12.00
Thursdays 19:00 to 20:30

Matchdays:
Sundays - see fixtures

League Information
Under 15s Cup/Plate

Fixtures Contact:
Marcus Brewer or Coach/Manager

Coaching, Management & Support Team.....
Primary Coach
Level:
Email:

Derek
Level 2 RFU
derekgen@gmail.com

Team manager
Tel:
Email:

Kerensa Rose,

farnboroughflames@gmail.com

Coach

Jonathan Woodley
Level 1 RFU

Coach

Stuart Crocker

Coach

James Gomes

Coach

David Hanks

First Aider

Catherine Traer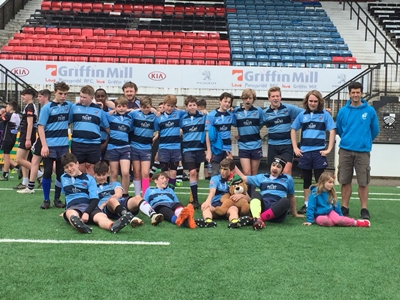 Squad Information.....
Current School Year 10
With the U14's season now firmly behind us, we are all looking forward to another exciting season of contact Rugby, come September 2018. Under the direction of a Head Coach, Derek Hulley, our current squad is looking forward to the new challenges ahead - ranging from learning new key elements of the game to fulfilling personal training goals.
Our ethos is, and has always been, that help, support and encouragement is always available to those wishing to learn and play Rugby, regardless of ability or experience. We are great believers that positive guidance works better than dictatorial training and as such, place great emphasis on inclusion, enjoyment and teamwork throughout all of our training sessions.
In line with last season, our squad will be competing in the Hampshire Cup tournament during 2018/19 whilst also enjoying a balance of targeted training sessions and 'friendly' matches against other local clubs in the interim. All squad members are given the opportunity to participate in matches throughout the season, allowing them to put into practice what they've learnt thus enabling them to develop as players.
We like to think that we are a friendly and welcoming bunch, both on and off the pitch, and are always looking for new players to join our squad. To ensure it's for you, the first three training sessions are free so why not come along, join in and make some new friends?
We train every Wednesday from 6:45pm until 7:45pm and every Sunday 10:00am – midday throughout the season. All of our matches/festivals fall on a Sunday.
The new contact season starts September; please contact either Head Coach Derek or Team Manager Kerensa before coming down for the first time.
Thank you to our Sponsors