FRUFC Under 7s Squad Page.....
Training:
Sundays 10.00 - 12.00

Matchdays:
Sundays - see fixtures

Fixtures Contact:
Tracy Playfoot - see contact page
Coaching, Management & Support Team.....
Primary Coach
Level:
Tel:
Email:




Manager:
Email:


Sabrina Watts
sabrinafwatts@gmail.com

Squad Information.....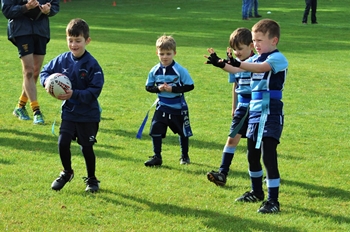 The new rugby season starts on Sunday 2nd September 2018 when the Under 7s will welcome players old and new to Farnborough RUFC. The sessions start at 10am and run until around 12 noon. We meet either on the 3G at Samuel Cody School or at the club on the field behind the clubhouse.
Some weeks we visit other local clubs for joint training and throughout the season we enter a team into local tournaments. Last season we were very successful in these competitions -just look at the Honours Board on this webpage.Details of our fixtures for the season can be found on this website – why not take a look ?
If you would like more information about Under 7s rugby at Farnborough RFC please ring or email the Head Coach – details are shown above. Our main focus at this age group is on the children having fun and learning basic rugby skills through tag rugby, the RFU's agreed modified version of the game for this age group.
We take children from 5 years of age and all are welcome throughout the season ! We are a very inclusive club offering rugby for all.
What is Tag Rugby ?
Tag rugby is a safe, fast-moving, non-contact game suitable for boys and girls to play together. The players wear tag belts and tags and tackles are made by pulling tags off of the opposing ball carrier.
We are a club run entirely by volunteers so we would welcome help and support from parents in any capacity. Interested? Please contact the Club or the Age Group Manager.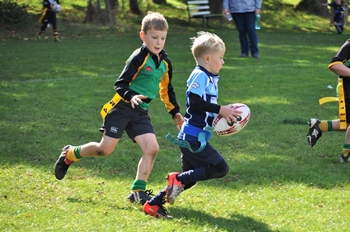 Coaching:
We work on individual skills of :
Evasion - side steps, swerving, change of pace
Handling skills - ball familiarity, static passing, moving passing
Tagging (Tackling) - positioning, awareness
Decision making as an individual
And group skills of :
Attack - working together to move forward including passing, evasion and support
Defence - keeping a defensive line, reforming a line, working together
Decision making as a team
Learning the rules of tag rugby and most importantly, having fun !
Player of the Week :
Each week the coaches present "Player of the Week" awards to those players that, regardless of ability, put in a lot of effort, listen and learn and support and encourage their team mates.